Wednesday, 15 August 2012
Can't Get Over YOU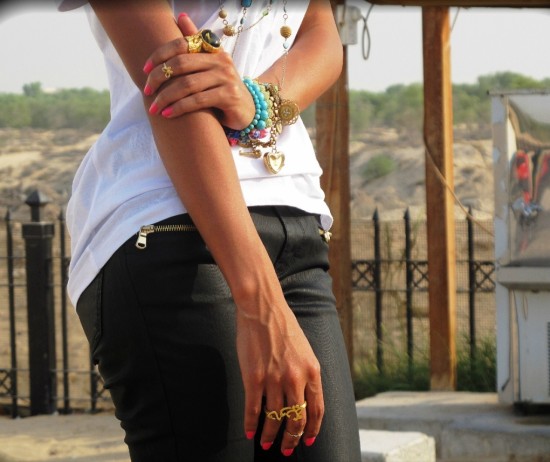 Photography by Rawdha Al Saket
Top by Forever 21, Wax Denim by Zara, Shoes by Alexandre McQueen, Bag by Jasmine Lux, Necklace vintage & Arabic letter N by Al Washea, Arm candy by ForTheLoveOf & Nim Nim Jewels
Casual is one of my best looks! I love just pairing plain jeans and a white tee! It just goes a long way! Wearing these Zara Denim 58 Wax Skinnies that I absolutely love, happens to be one of my best pair of pants. I must admit they make me feel very feminine yet masculine at the same time.. weird I know, whatever they look HOT!
Anyway, I had my hair tied up not sure if you can see my hair color too well, but its dark/ashy brown!? I hope you guys like it some of my followers on Instagram prefer me with lighter hair, kind of needed the change! But I really am hoping to go a bit crazy and maybe add purple of blue streaks? yes? no? oh well i'll let you guys know if/when I do it! Other than all that 18 day's till I fly off to the UK! WOHOO!
Until next time darlings…
P.S Win a Makeover with Posh By Feryal HERE It ends tomorrow & a Lady Fozaza Blazer HERE it ends in two days!
Beyonce- DeJa Vu
Category: Outfit Du Jour
Tags: arm candy, Dubai, Dubai Blogger, for the love of, Jasmine Lux, look of, Style, Wax Denim, Zara