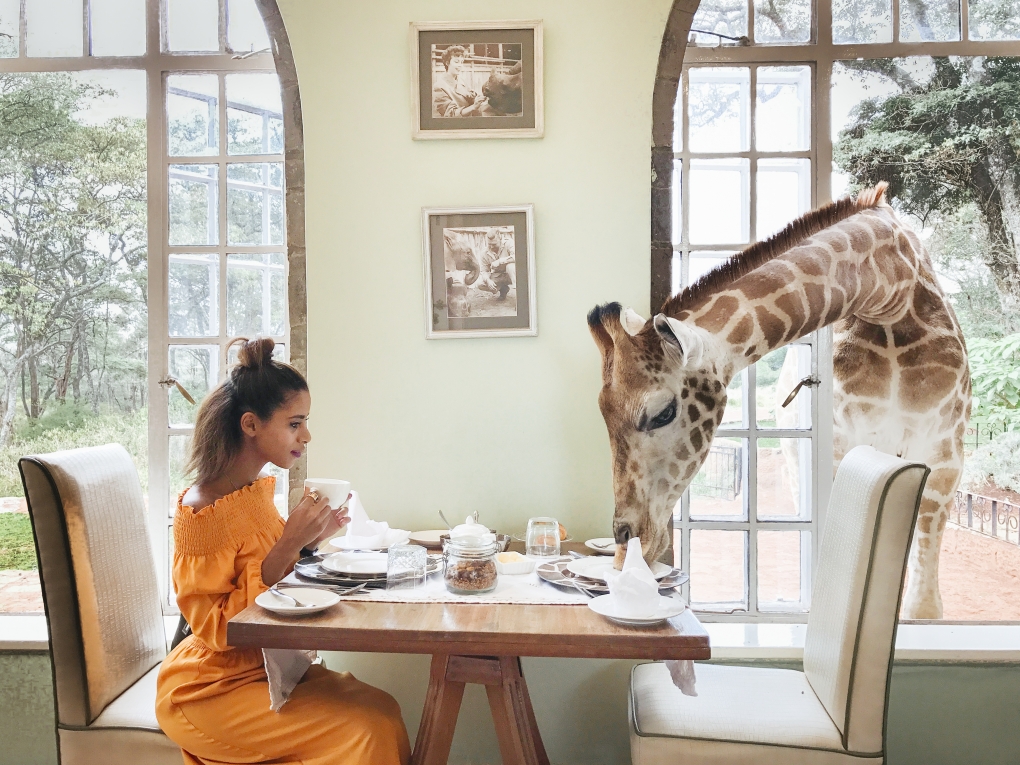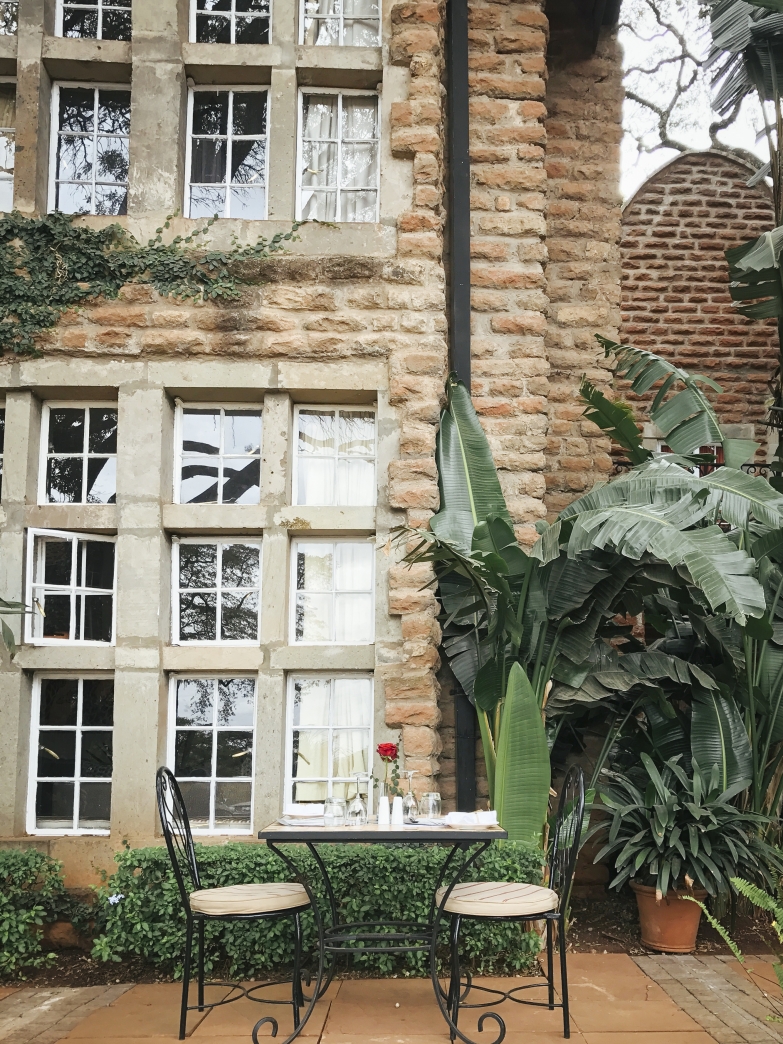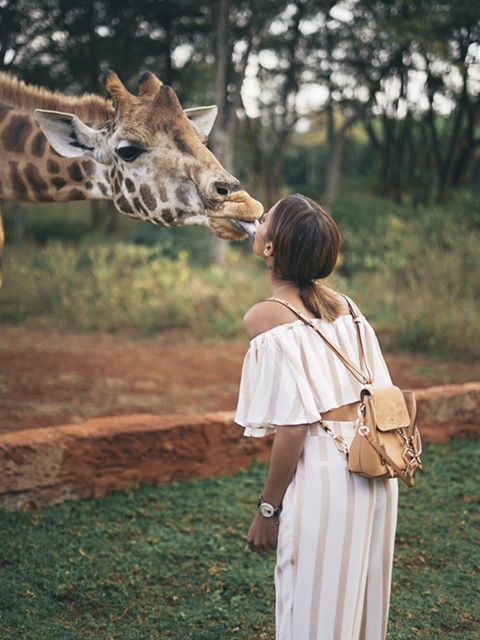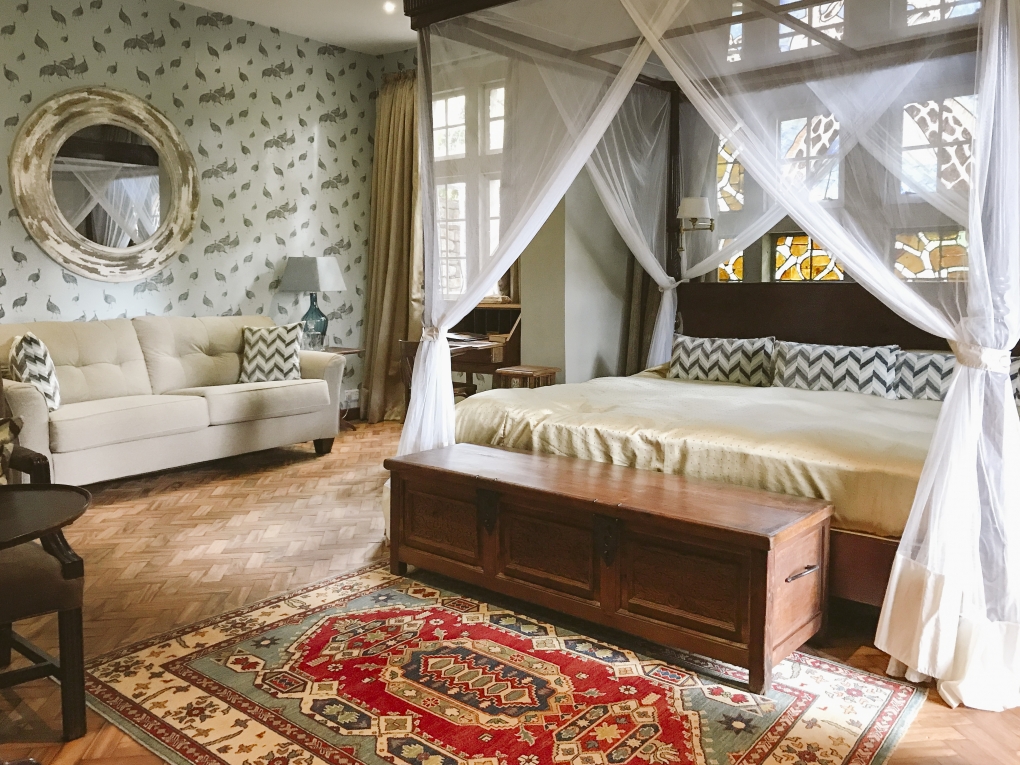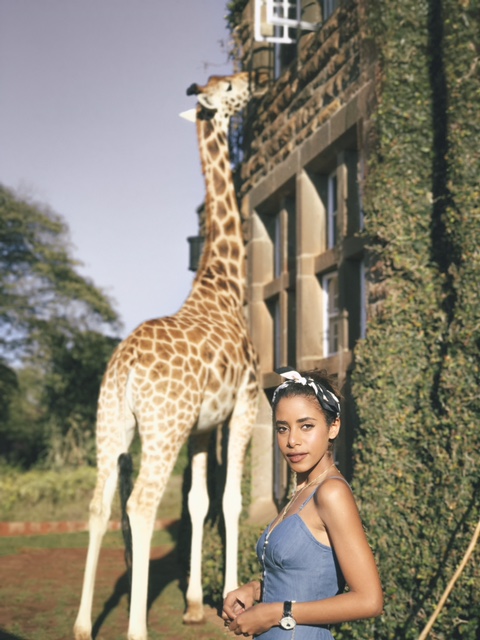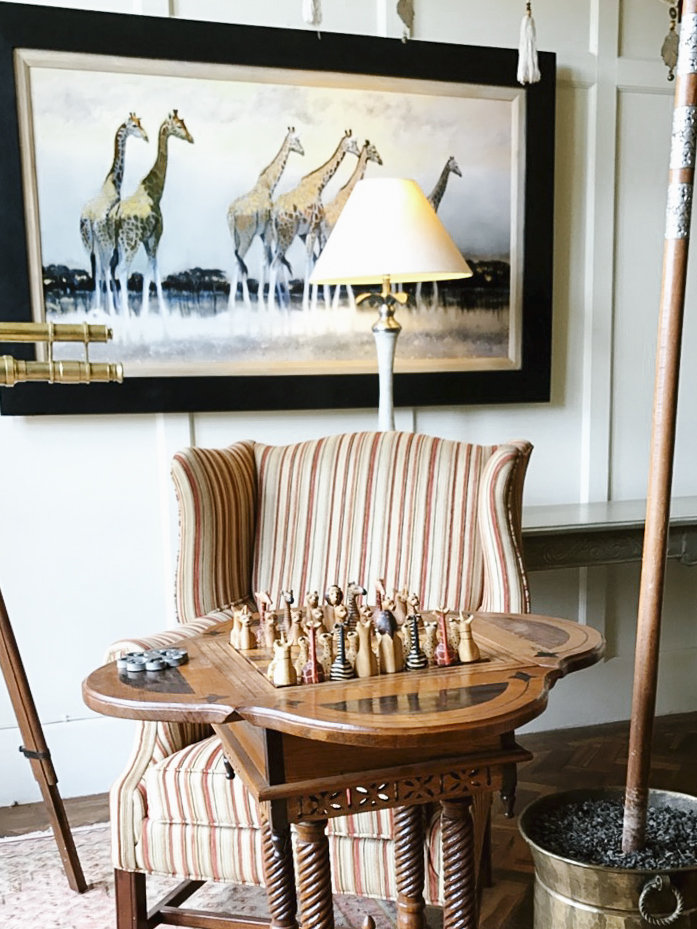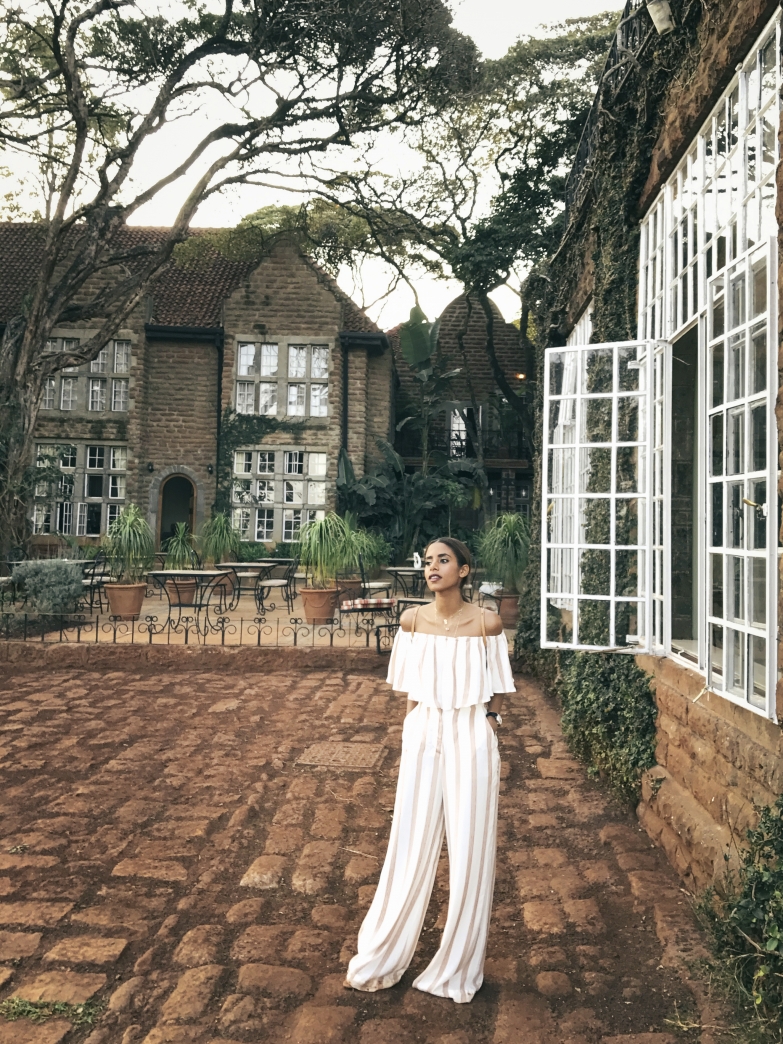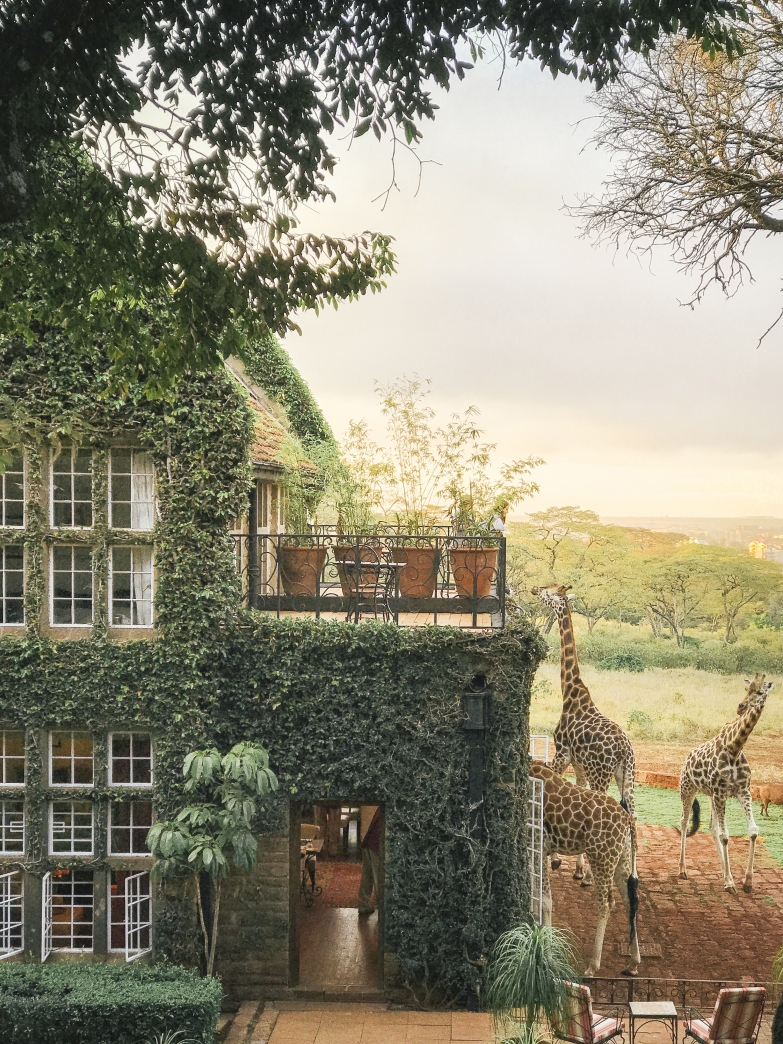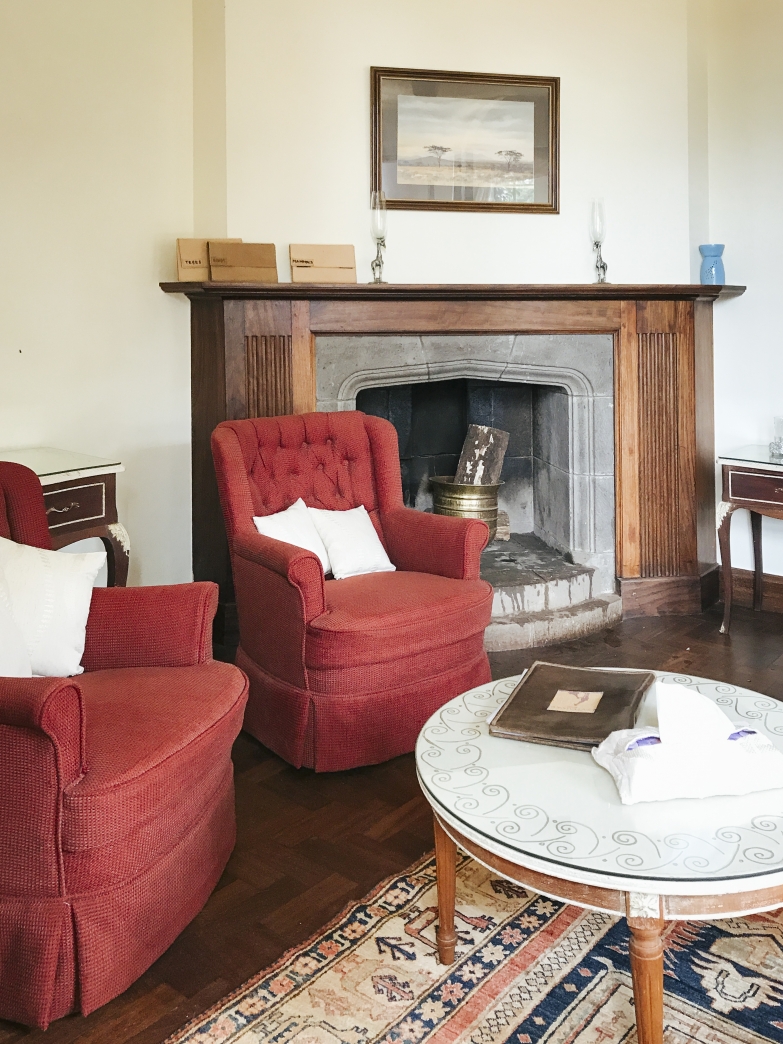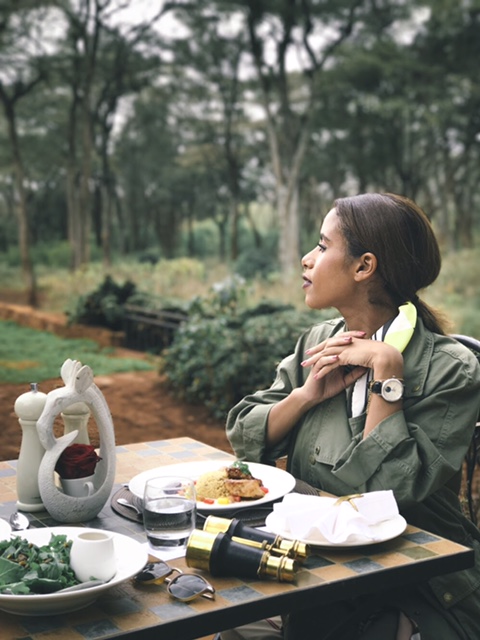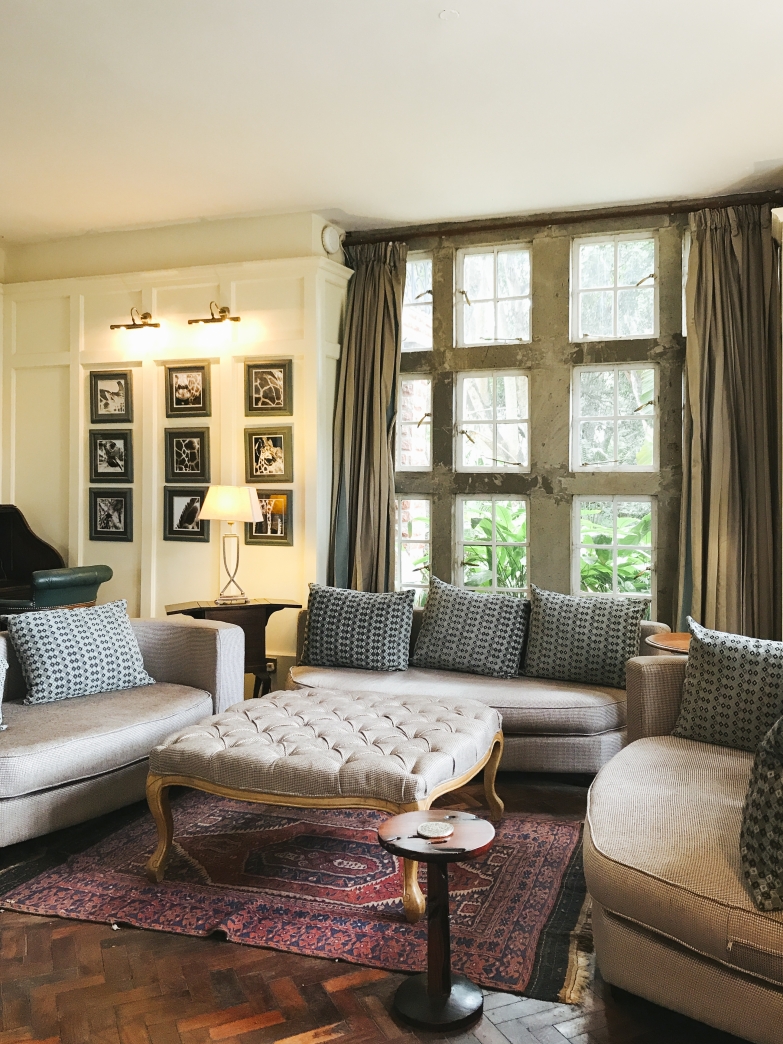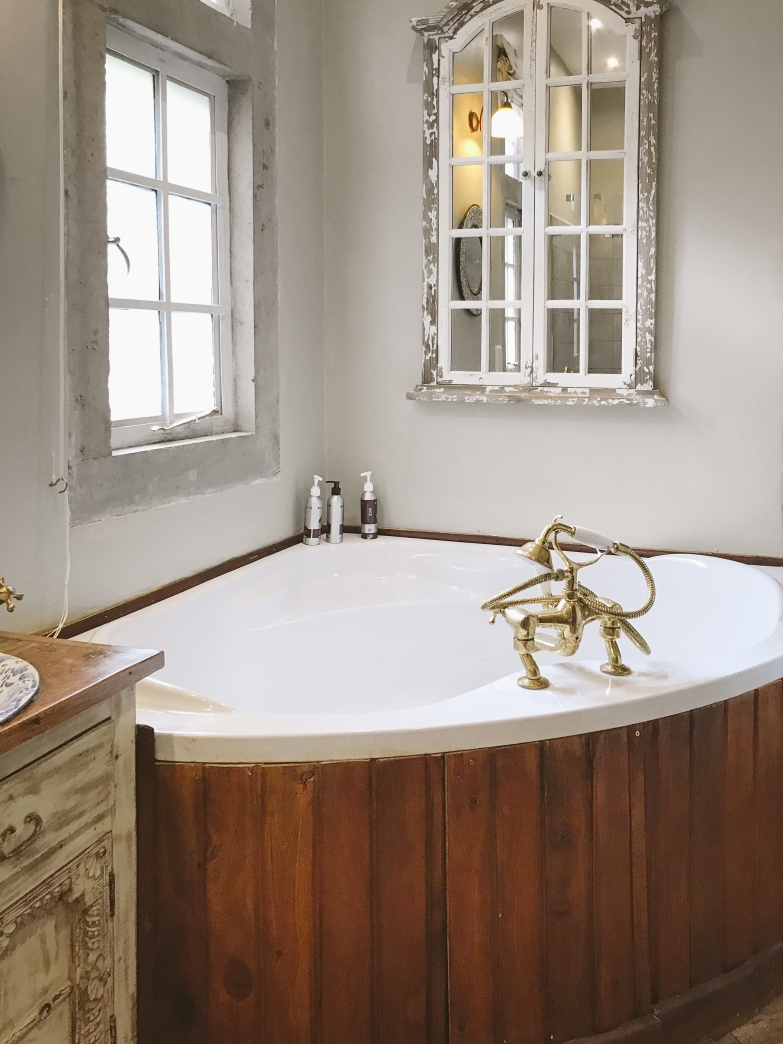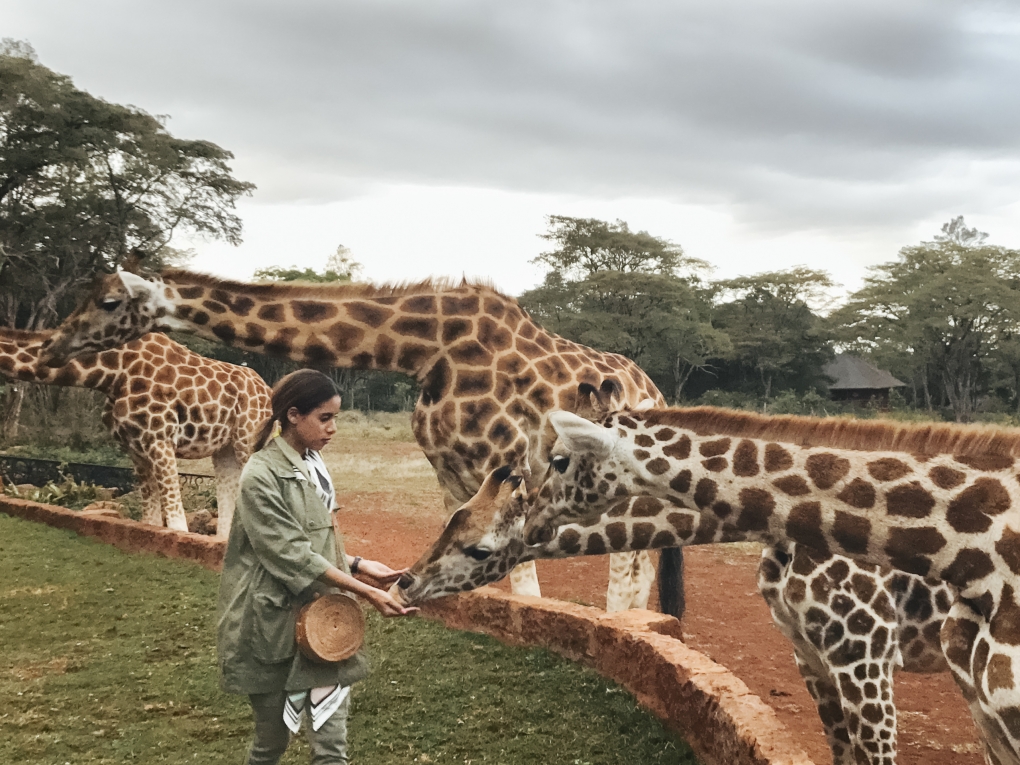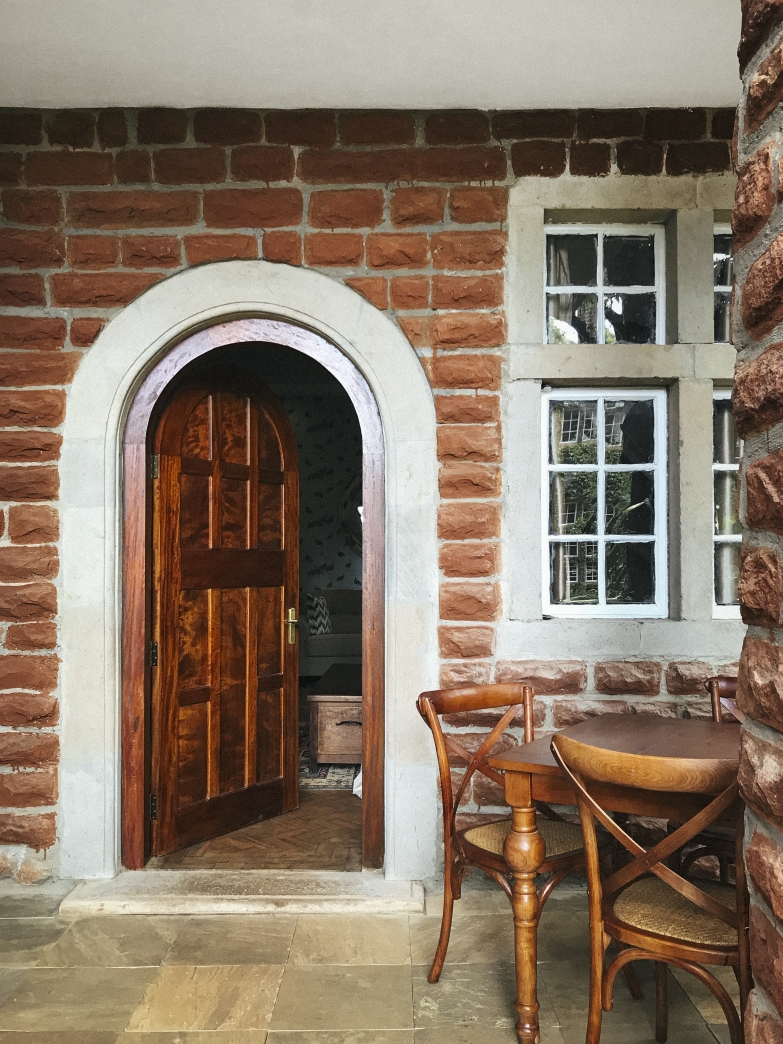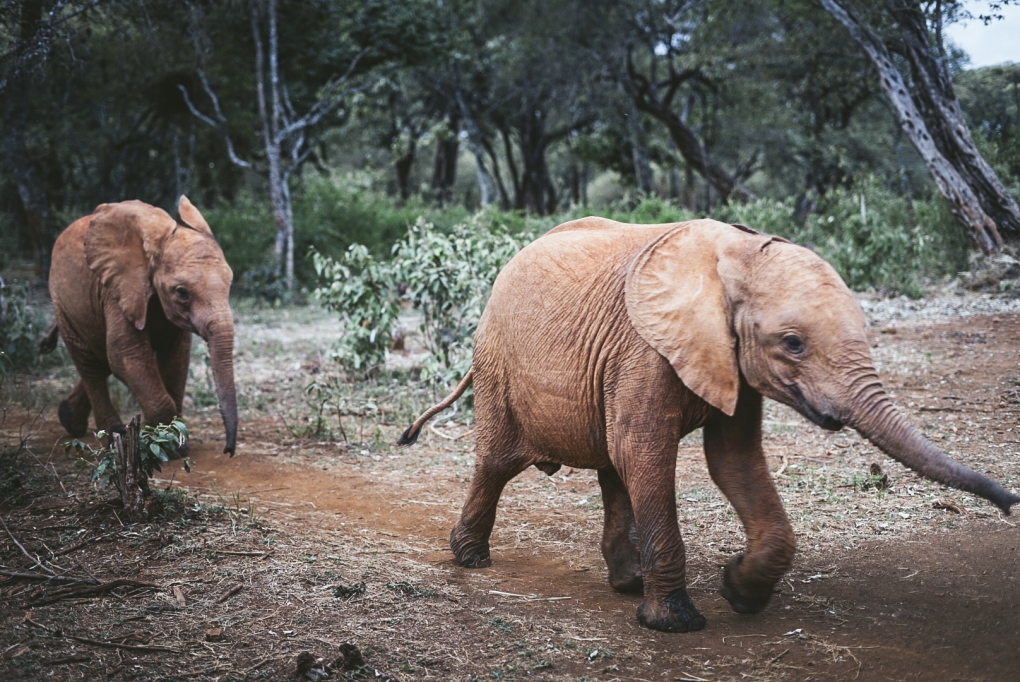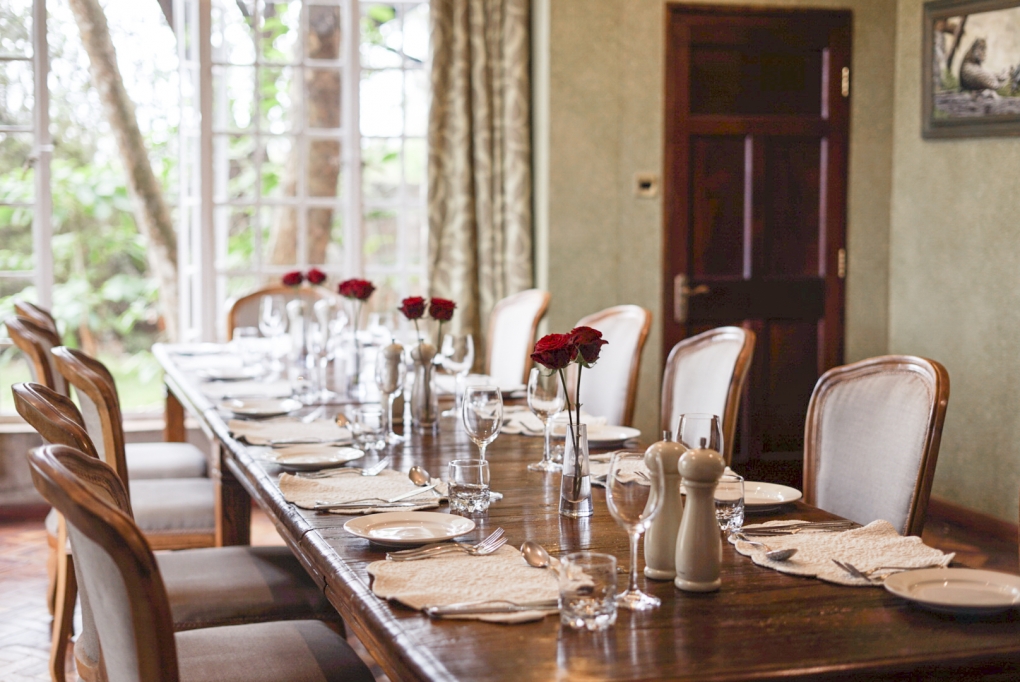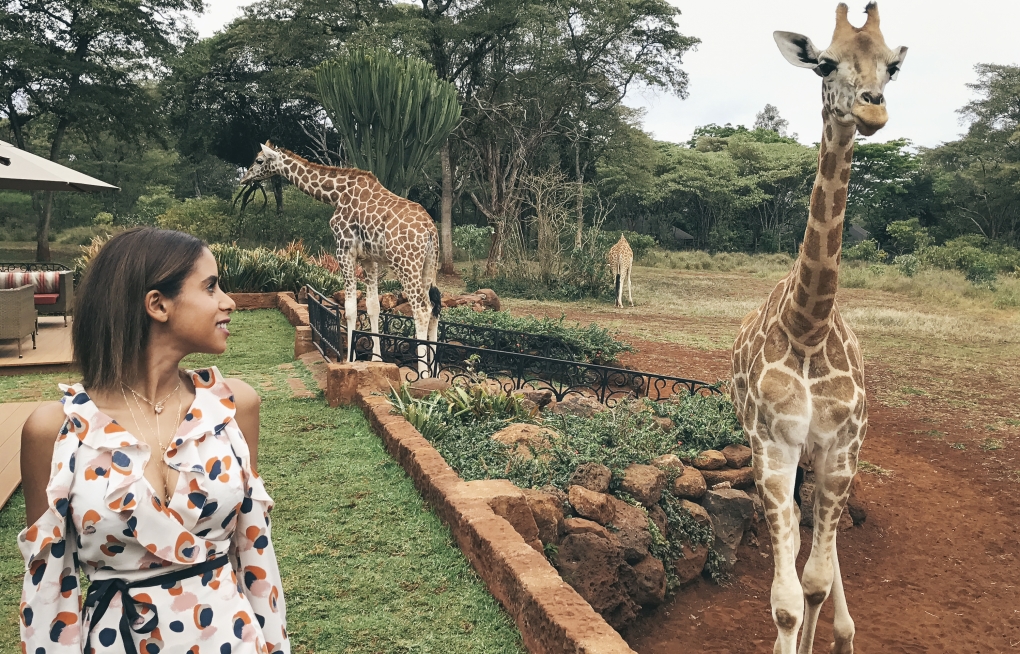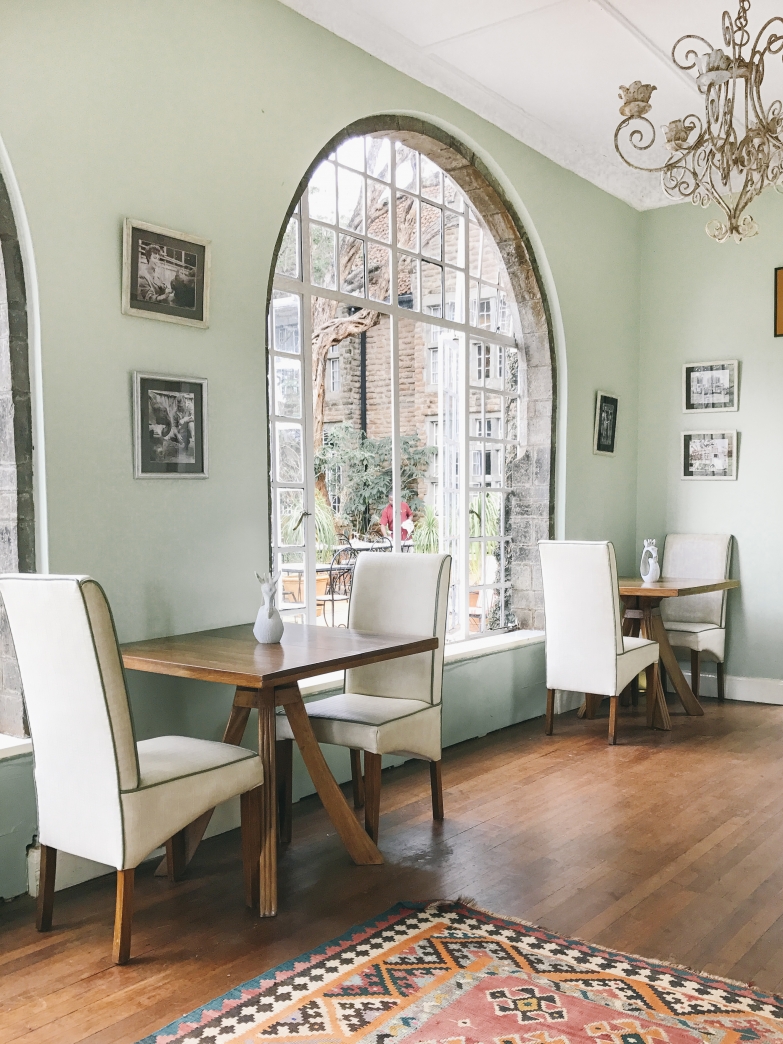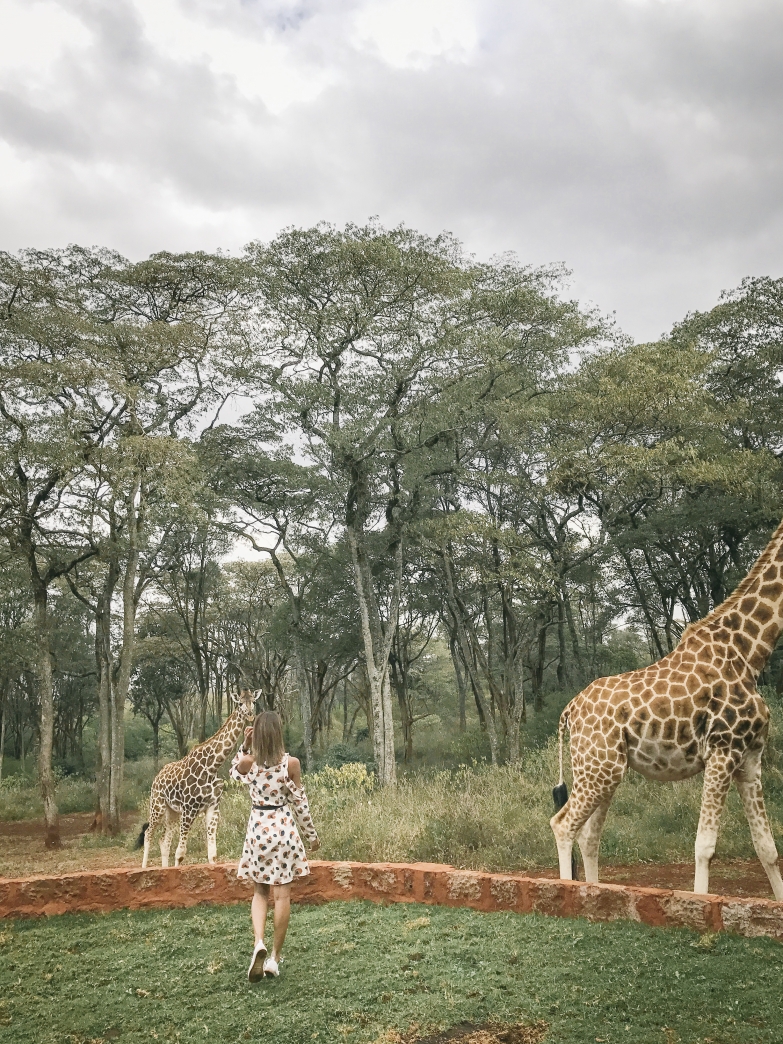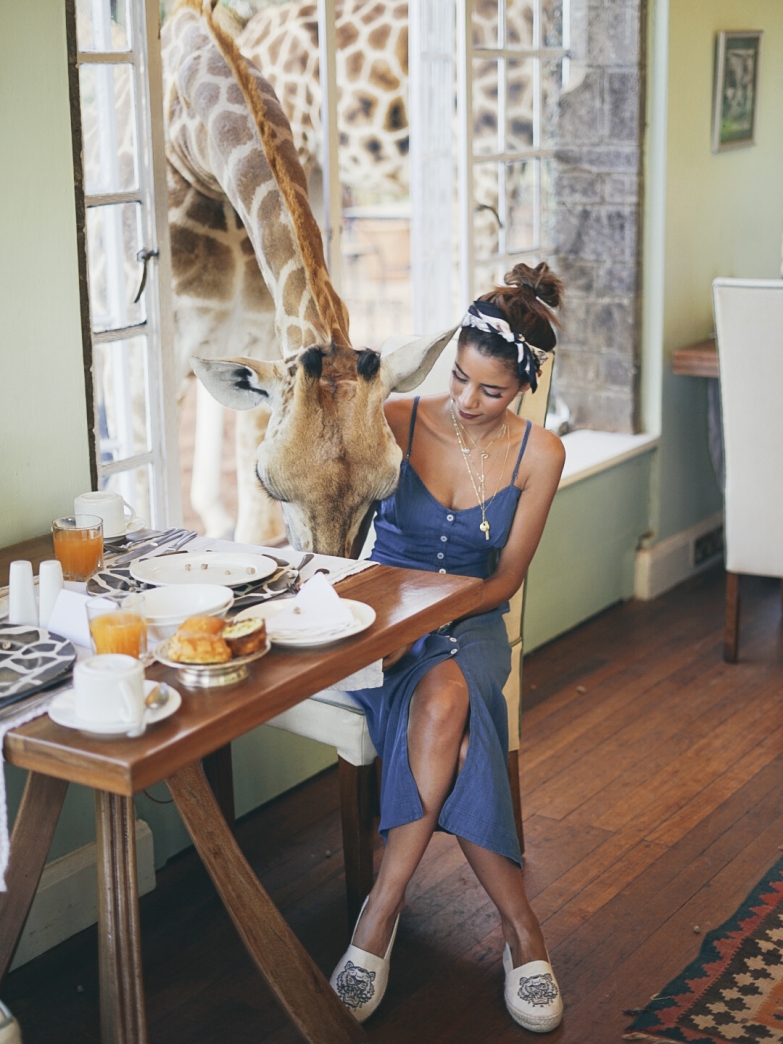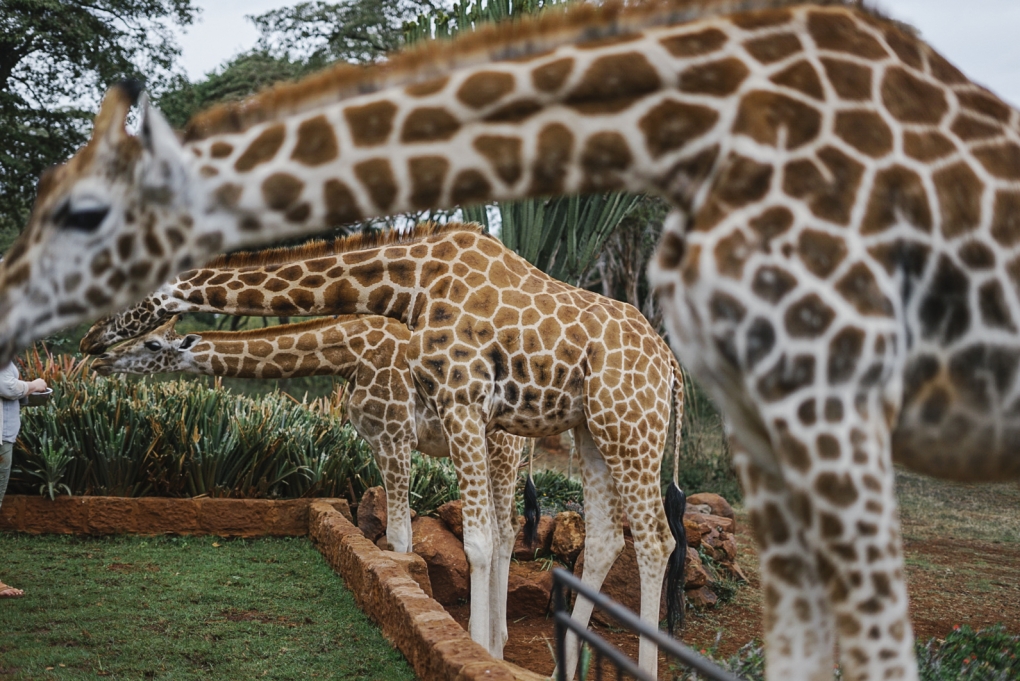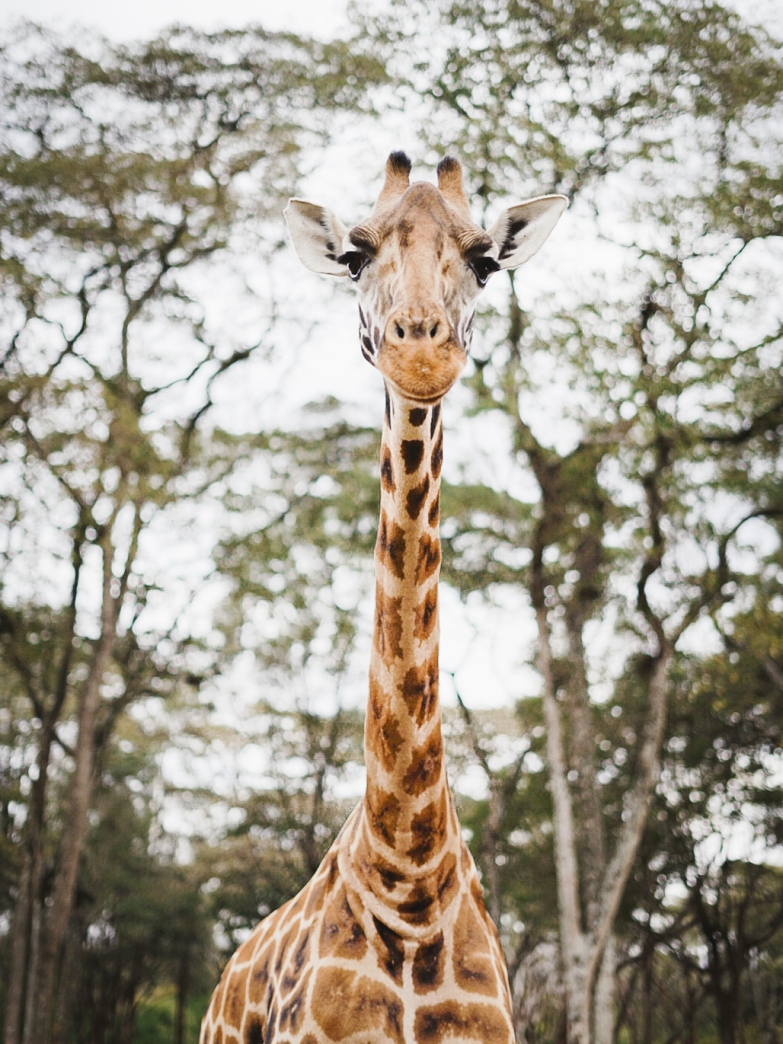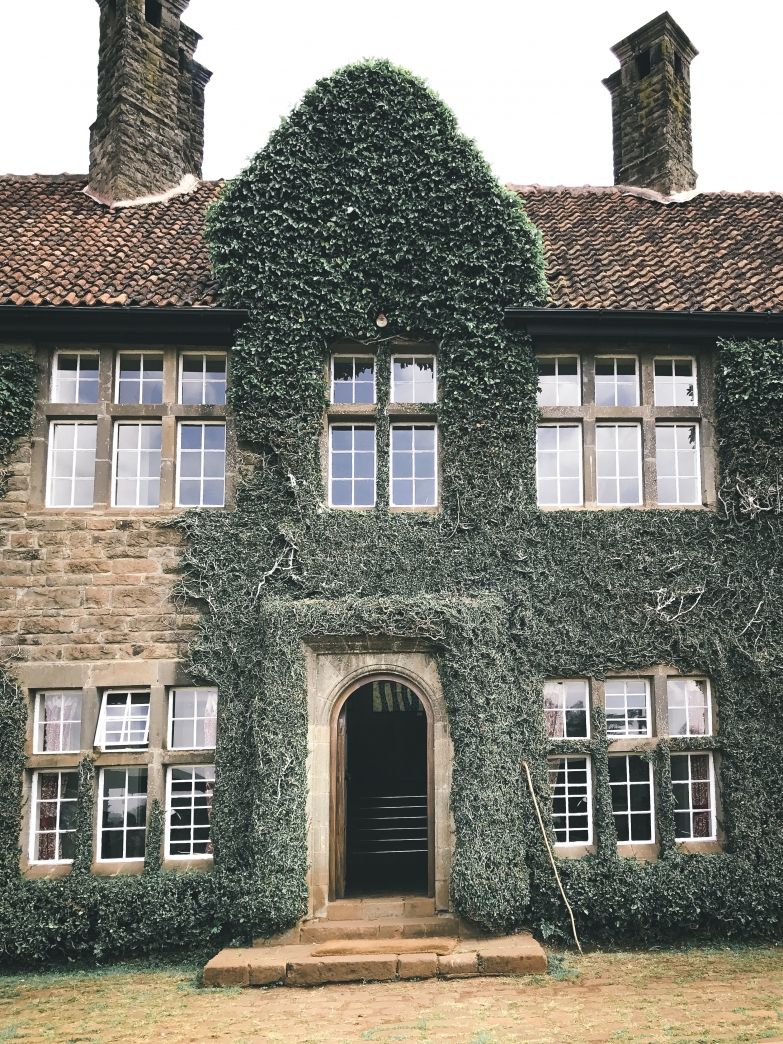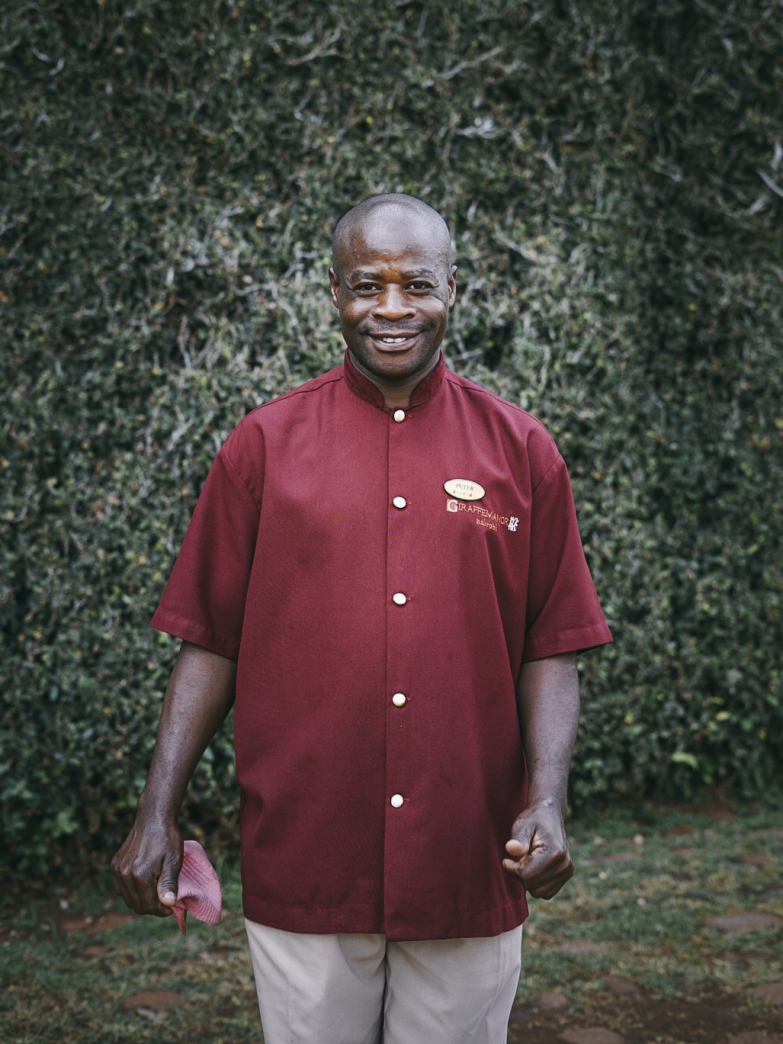 I think it's safe to say that the Giraffe Manor has become the IT boutique hotel of our time. Everyone is just dying to spend a night at the manor to just be able to have breakfast with the Giraffes and trust me it's an experience you need to go though. Like it's nothing like i've ever seen or done before and I don't think I will ever feel the way I did when I was at the Giraffe Manor. I actually planned this trip since around February and had my mind set on going there since last year. Of course with planning everything came together perfectly! 
The manor has a lot of rules and safety guidelines on how to co-live with the giraffes as they still are wild animals. Theres about 7 of them if my memory serves me right and they are the cutest things ever and just wonderful to look at. We were told to stand in front of the giraffes because they might just head bump you or kick you a deadly kick. So try to abide by their rules.
Edd, the male giraffe was one of the friendliest he was the only one who you'll be able to stand by his side and he will just rest his head next to yours. But he can also be a bully to the other baby giraffes just because he was just greedy and wanted more food for himself.
Then you have Daisy and Kelly, better known as the trouble makers and they will just headbutt you any chance they had. Not the best feeling.
Most of the giraffes will give you a kiss, which is basically you having to put their food on your lips and they'll just eat it off you which then looks like a giraffes kiss, now thats an insane experience! 
The Giraffe Manor has a strict Check in and Check out timing and no visitors. So unless you're spending the night, no breakfast with the giraffes and no afternoon teas with them.
Fun fact, many people don't really know this but they also have Warthogs!! Yes Pumbas all over i was shocked when i saw them, but they eat whatever the giraffes drop to the floor. 
How to get there?
This just might be the easiest exotic boutique hotel to get to because the Giraffe Manor is literally 30 mins from the Nairobi airport. 
Where to go/ Where to eat?
The hotel literally plans everything from an afternoon tea to dinner, lunch and breakfast. All of this is included in your hotel stay. So you don't have to worry about where your going to get your next meal because it's there ready to be served for you. 
Breakfast:
This could be the trickiest part, because everyone want's to eat at the perfect spot to get the IT shot of having breakfast with the Giraffes. My suggestions is to try and reserve the table the night before, but again there is no guarantee they will give it to you. Another tip is that you would need to wake up WAY early in the morning to get that spot. The giraffes come close to the Manor around 5am and honestly it's the best time to get there because you kind of have the place to yourself. But shh don't tell anyone what i just told you!
Lunch/Dinner:
Lunch and dinner are served at the same time for everyone and everything is healthy so it's just perfect! We had lunch by the terrace and dinner indoor. We had everything served to perfection and thanks to the most wonderful staff special thanks to Safari and Francis. Really loved them!
Sundowners:
So sundowners was served in front of the manor accompanied by the giraffes. Note that the giraffes are only there in the morning and just before sunset when they go back into the wild!
David Sheldrick Wildlife Trust:
I have an obsession with Elephants and i think they are the most intelegants and loveable creatures. We had booked an afternoon to spend sometime with the adopted elephants and just watch them as they are being taken care of. Most of these elephants are orphans, their parents were either hunted by wild animals or killed by poachers which seems to be the most common issue. 
The baby elephants are taken in, taken care of until they reach an age where they are able to go back into the wild and live life as an adult elephant.
The orphanage also had 1 giraffe and a blind rino who can't ever be sent back to the wild because he would have a disadvantage and be killed.
Another fun fact, baby elephants need to cuddle before they go to sleep.. isn't that just cute? 
The Rooms:
The Giraffe Manor has a total of 12 rooms. They had recently extended and built and extra rooms in less than 4 months! How insane? So you have the Main Manor which was built in the 1930s with rooms that are just perfect for anyone that want's to feed the giraffes from their rooms. Then you have the Garden Manor thats an exact Replica of the Main Manor and if i'm not mistaken was built in 2015. We stayed in the Salma room, the room was spacious and had a balcony that over looks the the breakfast room.  
I hope this helps you guys plan your trip (way in advance) to the Giraffe Manor and know what to expect and just really enjoy the time to relax to the maximum. for more visit the Safari Collection website HERE. To check out my Safari Collection vlog HERE and to ready about my trip to Salas Camp HERE