Friday, 17 August 2012
Did YOU Get My TEXT?!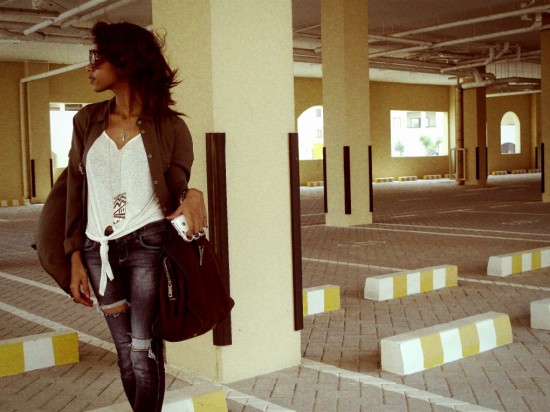 Photography by Rawdha Al Saket
Jeans and Shoes by Zara, Bag by YSL, Top & shirt by TopShop, Ring Bracelet and Necklace by House of Harlow 1960 (gifted by Impression Boutique) Knuckle iPhone case from West L.A Boutique, Vintage Oversized shades from TOTEM Boutique
Hey dolls! Ok just a few days left till Ramadhan ends and it feels like it just started last week! oh how time flies when you're having a good time! Spent all of Ramadhan with family and friends, its such a good month to get together and catch up as well as emphasizing on doing good. I know I did or at least I tried and hopefully my good deeds over weigh my bad ones!
Moving on, I love working with boutiques as they have the coolest stuff ever, and one of my personal favourites in the GCC is Impression Boutique, I love their selection of brands its like they know everything that i love and want! They were kind enough to send over some accessories that go so well with who I am. what do you guys think?
P.S only 16 days left till I fly of to the UK and attend Fashion Week as well Eeek!
P.P.S Can anyone else spot the dead pigeon? Rawdha thought it gave the images more character .. HMM?!
P.P.P.S What do you guys think of my DIY ripped jeans? I do get bored at night.. sigh*
Mr. Hudson- Instant Message
Category: Outfit Du Jour
Tags: Dubai, Dubai Blogger, House of Harlow 1960, Impression Boutique, Knuckle iPhone Case, Look of the day, Style, West L.A boutique, YSL Cabas Chyc Large leather tote, Zara