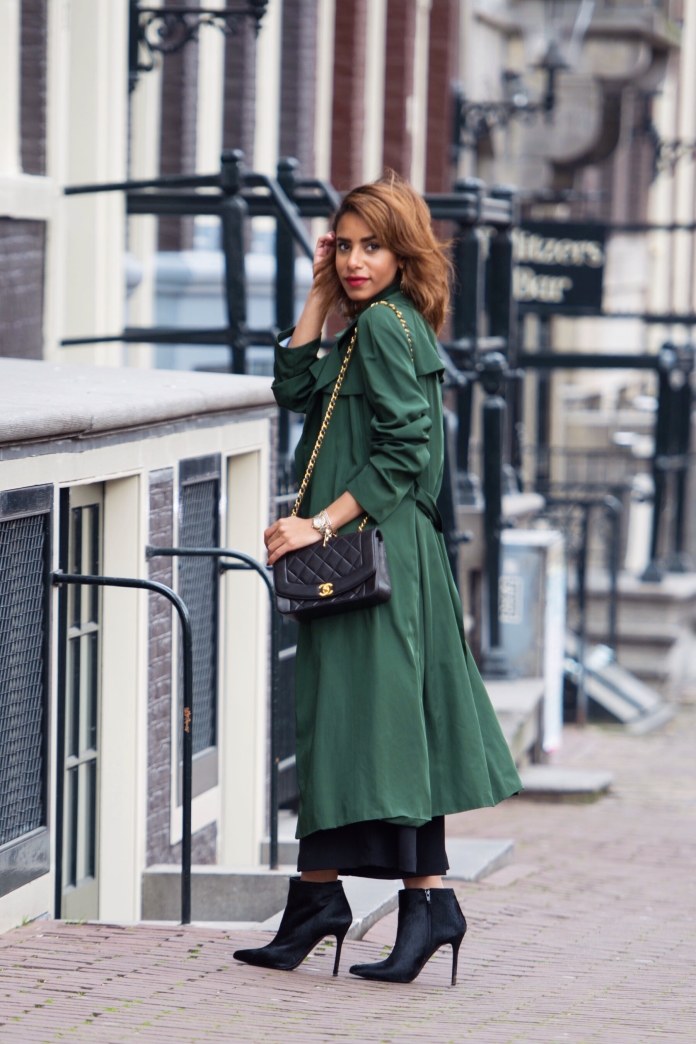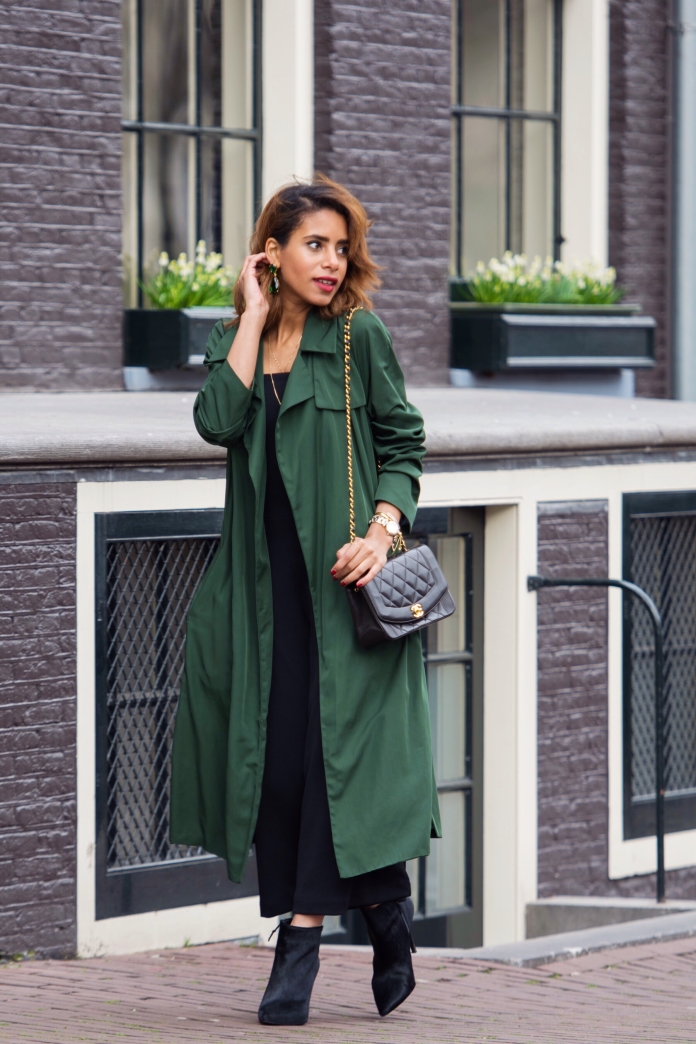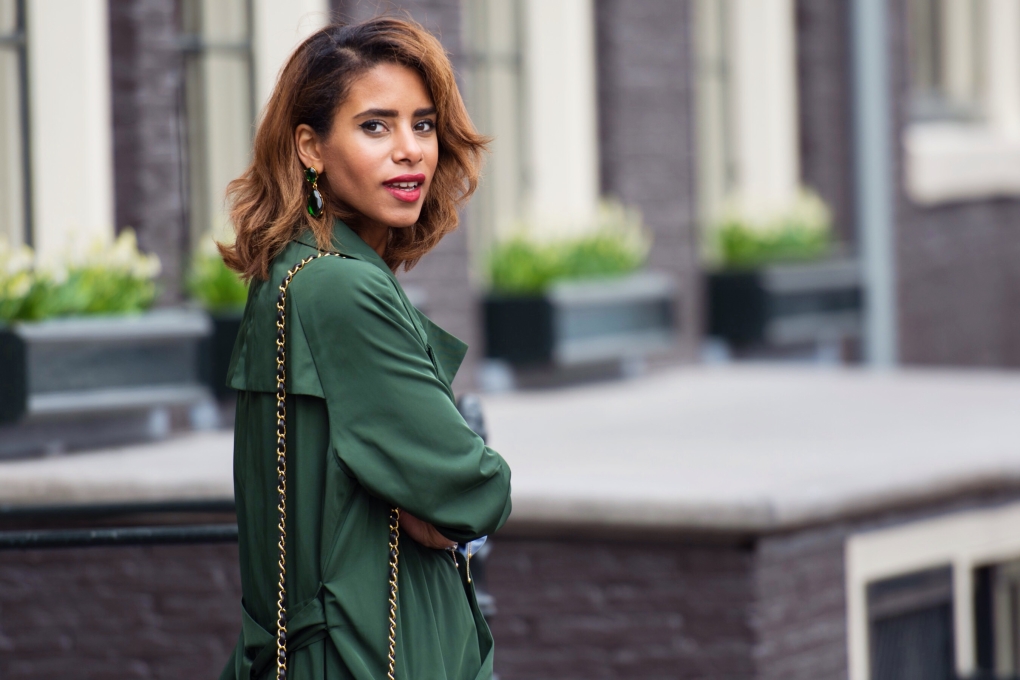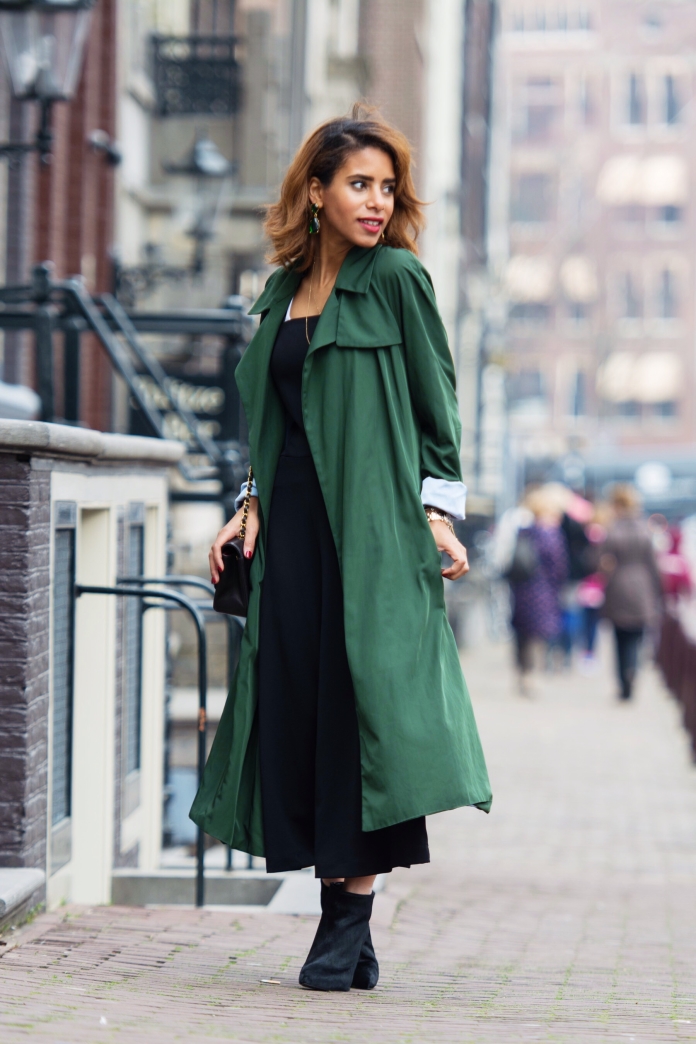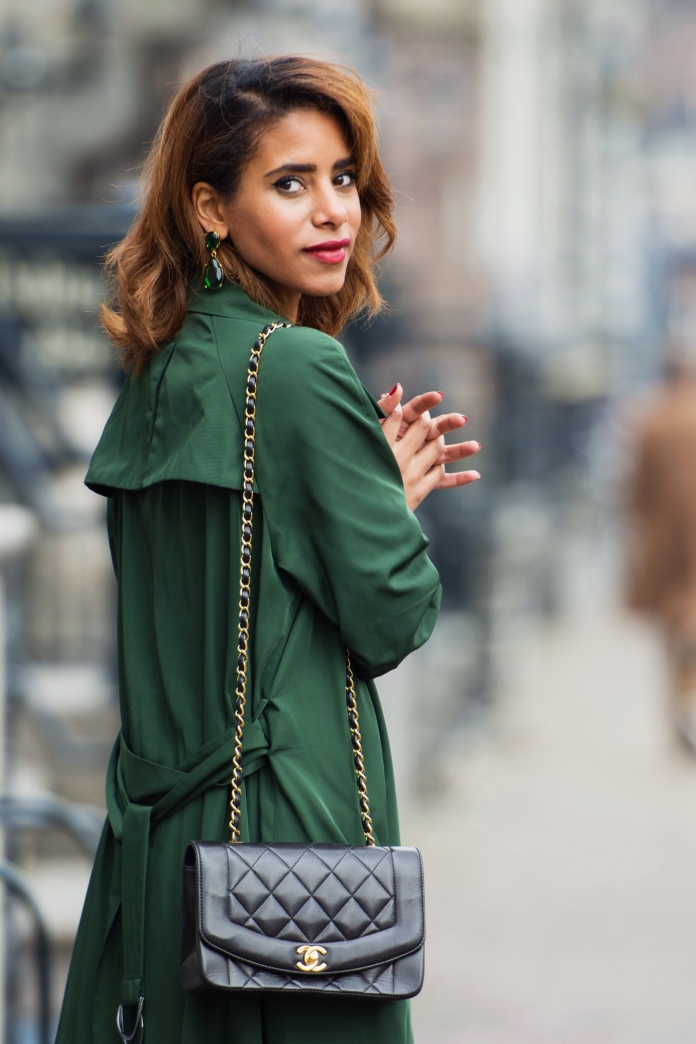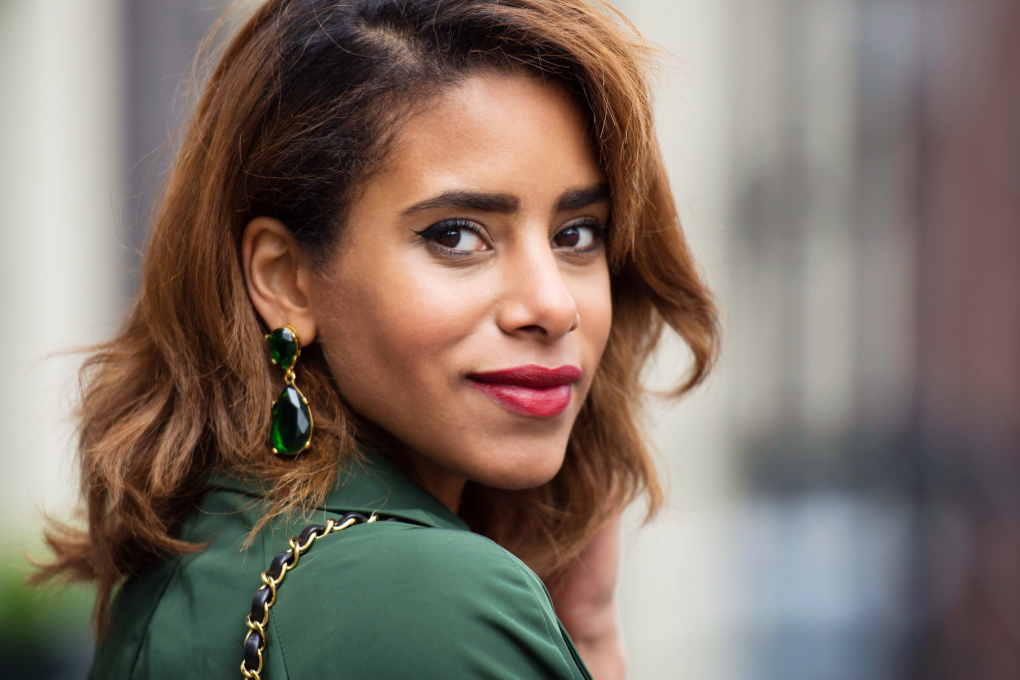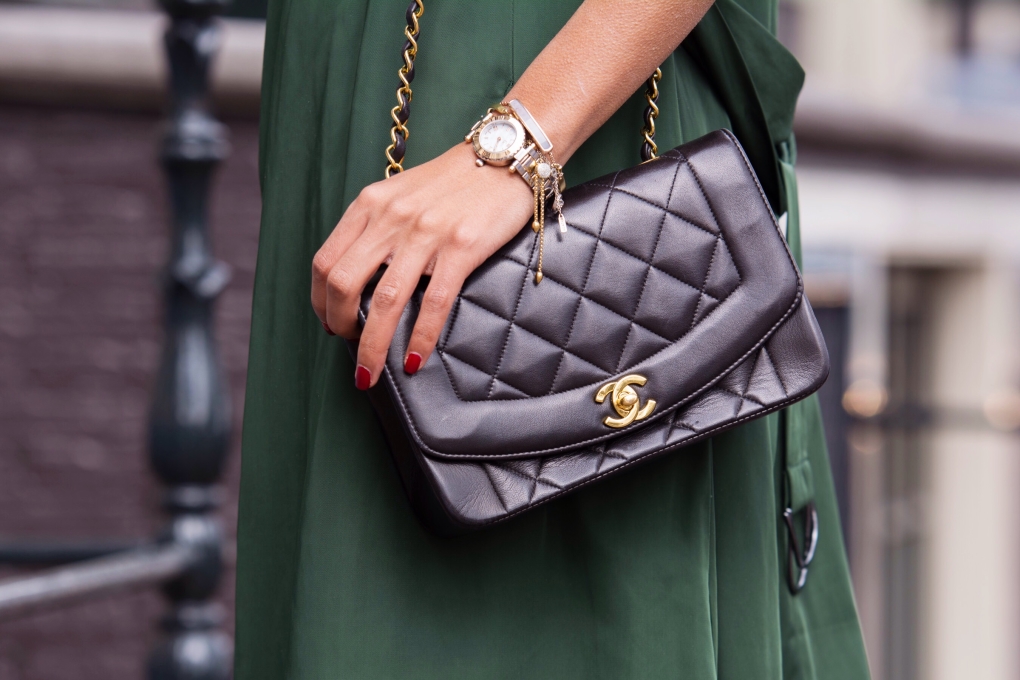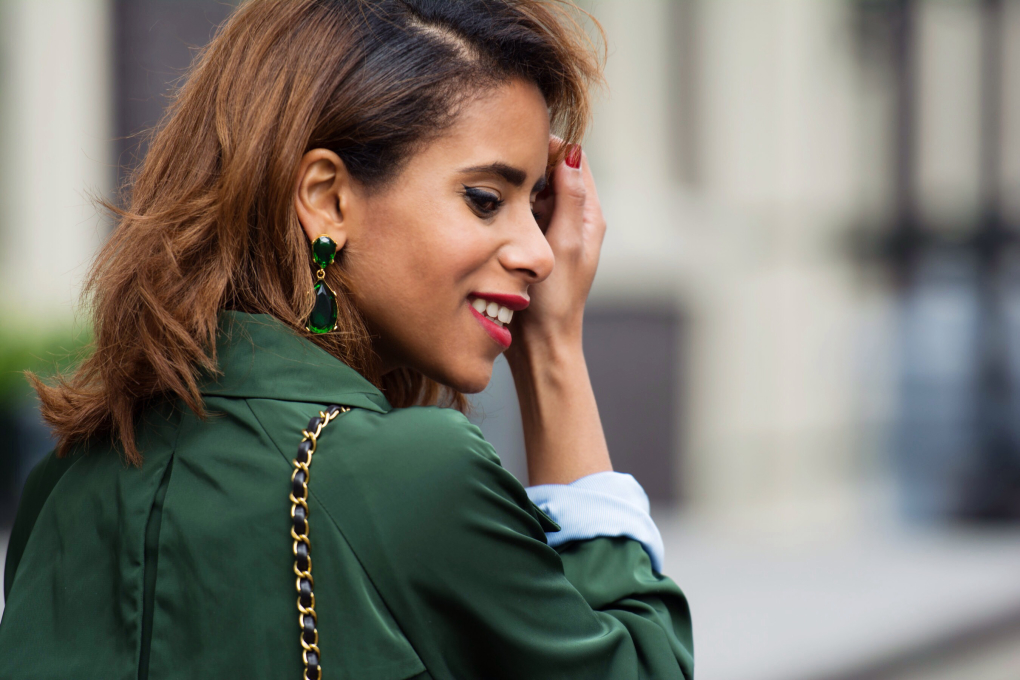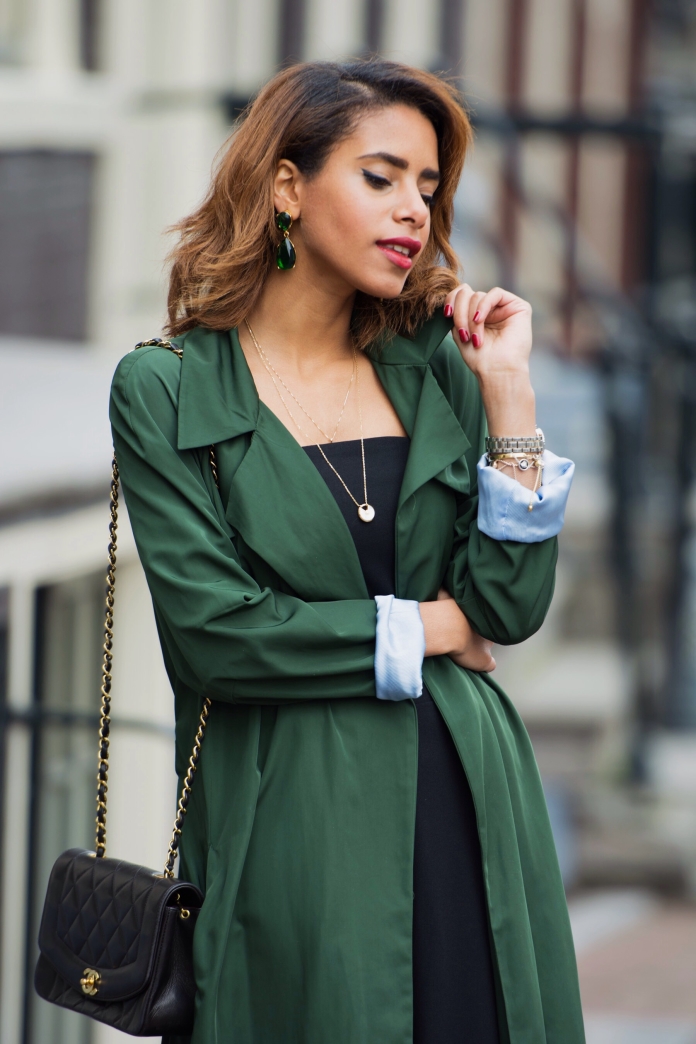 Photos by José Chan
Coat & Jumpsuit by Zara, Chanel Vintage Bag From The Closet UAE (HERE, HERE), Stuart Weitzman ankle boots( on sale HERE), Kenneth Jay Lane Earrings from Sophies Closet (also HERE), GC Watch (HERE)
I think one of my highlights of travel this year (so far) has to be Amsterdam. I absolutely fell in love with the city and found it to be extremely cute and everyone was super friendly. I've listed some tips, recommendations and personal experiences below for everyone who is planning a visit to Amsterdam.
How to get there:
I flew from Abu Dhabi to Amsterdam with Etihad Airways around 9 am and arrived there roughly around 2 pm. Just in time for hotel check-in. Thankfully the airport in Amsterdam isn't too far from the city and it took us about 20 mins and roughly about 75 Euros to get to our hotel.
Where to stay:
I stayed at The V Nesplein. It was one of my favorite hotels to stay in ever! The windows were big (I love big windows) I had the street view although it does get a bit loud at night over the weekend. The room was extremely spacious, the beds were very comfortable, and the Bathroom has a shower with the right amount of pressure and heat. The hotel has a very famous restaurant and bar called The Lobby, unfortunately it was always fully booked and we only had the chance to eat breakfast there once.
Where to eat:
Amsterdam to me is a city of flowers, bikes and FOOD! You will always find a cute café with delicious pastries or mouthwatering stakes and fries.
For breakfast I do recommend The Lobby, located at The V Nesplein Hotel, they have a delicious menu! I had your usual Pancakes & fruits, Eggs Florentine and the most delicious hot chocolate!
You cannot visit Amsterdam without trying Fries to go and mini Pancakes covered in nutella. I swear everywhere I turned I saw a person with one of the two and I couldn't help but get some myself.
As for lunch, we enjoyed eating Pasta at a little restaurant just a few road down the Dam Square called Ludin. It's really a cute restaurant and the atmosphere was super cozy and friendly.
Lastly for dinner, I do recommend Argentinos. I think by the name you can tell it's an Argentinian restaurant and oh I highly think everyone should try their stake and jacket potatoes! YUM
Another cute bakery would be Betty Blue, located at Snoekjessteeg 1-3 1011 HA Amsterdam. (www.bettyblueamsterdam.nl)
Things to do, see and experience:
Kuekenhof,
On my first day I took a taxi and ended up at the famous Tulips Garden called Kueknhof. It just opened up for the season and I wish I had gone a month or 2 later. Not everything was green and bloomy, but you could picture how beautiful it would have been if it truly was green. Either way I do suggest visiting the place, it's beautiful and a dream, but make sure it's the right time to do so.
Dam Square
Well you can't really visit Amsterdam and not winding up at the Dam Square. Well, it's the center of the city I would say and if you're all about shopping like I am, the street is endless with brands that we all know of and some local ones as well. (5 mins walk from my hotel!)
Red Light District
Well it's another cliché of a place in Amsterdam, but of course you can't help but check it out. The area was literally 10 mins walk from our hotel and we decided to go a bit early as we were terrified on what we were going to find there! I do admit it's a bit scary and fascinating all the at the same time. I won't go into details about it, but you get the idea.
Transportation
 I walked everywhere and honestly everything was walking distance from anywhere. You don't really get tired and get distracted by the amount of bikes and bridges on the streets and around the city.
 Another means of transport is the Trolley (trams), boats and Bikes.
Shopping
 The best part of it all is SHOPPING! There isn't a street that did not have a cute boutique that didn't sell cute stuff! Of course you had all the Zara's, Mangos and TopShop. But they also had stores that we do not have in the Middle East like- And Other Stories-.
Vintage Finds:
 I Love Vintage-  Prinsengract 201- Amsterdam – open from 9:30- 18:00 and Closed on Sundays ( www.ilovevintage.com)
Marbles- Vintage bags (Chanel, LV, Hermes) –Nieuwe Hoog Street 12. open from 9:30- 18:00 ( Facebook Marbles Vintage & Design Amsterdam)
Anna + Nina – Kiech finds and quirky items- Gerard Doustraat 94- 1072vx Amsterdam/ Kloveniersburgwal 44A- 1012CW Amsterdam (www.anna-nina.nl)