Sunday, 26 August 2012
But It's Just A Sweet, Sweet Fantasy Baby!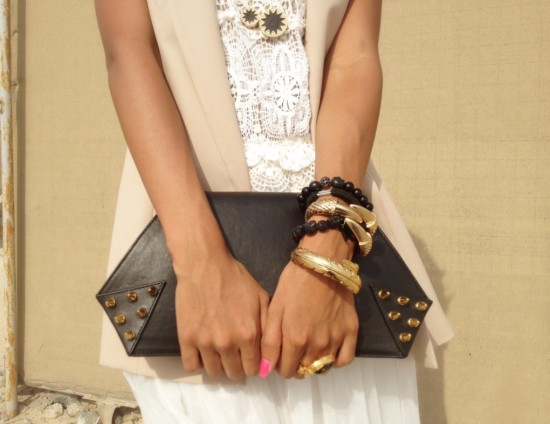 Photography by Rawdha Al Saket
Dress Vintage, Clutch "Bullet Proof" by Lya Lya, Blazer by Lady Fozaza, Hightop's by TopShop. Bracelets by Rock On, CC Skye and Bowtique
It is just less than a week to go until I land in Great Britain. I am looking forward to the trip to be honest. I have already planned my first two weeks, and I just told my mum that I will be gone for a month and the "visit family" speech came up! Oh well, I guess I'll do that for some extras!! hehe.
Anyway, I have started packing and I must say, I am running out of space and I still haven't packed the rest of my purses, jeans and tops! I know I am going to end up forgetting a lot of my "ESSENTIALS" and my mum is starting to think that I don't want to shop there HAHA, not funny mum!
P.S check out how I have started wearing trainers. Training myself to wear them on this one month vacay … don't miss me too much, I WILL keep you all posted TRUST ME!
P.P.S Let me just emphasize on something. I have a very talented photographer/Friend, who has taken these images with just her iPhone. Her camera wouldn't take the snaps, as it was WAAY too humid and the images kept on blurring out! how cool?
Mariah Carey- Fantasy
Category: Outfit Du Jour
Tags: Bullet Proof, Claw Bracelet, House of Harlow 1960, Lady Fozaza, Look of the day, Lya Lya, TopShop, YSL ARTY